SUBMIT YOUR NO OBLIGATION QUOTE REQUEST ONLINE NOW!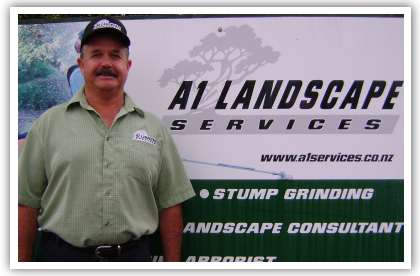 I began my business in 1975 as a sole trader under the name of A1 Lawn Moving Services, at this time we were catering to the domestic market with our Lawn and Garden service.
My vision was to provide a quality service, to grow at a pace I was comfortable with and to exceed my client's expectations.
Also with a mission to develop in the long term a competent team around me and provide them with the tools to maintain our high standard by educating and by purchasing quality machinery.
In the following 5 years I acquired contracts maintaining corporate sites with companies such as Ford Motor Co, Carter Holt Harvey, St Cuthbert's College, Progressive Enterprises, St Johns and Monier Tiles HQ. The majority of these sites has extensive grounds to maintain.
I invested in new machines and employed 3 people.
In 1985 (Auckland Regional Authority) now with a name change to Water Care Services came on board. At this time I made a business decision to cater for the requirements of our commercial sites only. Some 25 years later we still retain business of several of these companies and have forged a personal relationship with their representatives.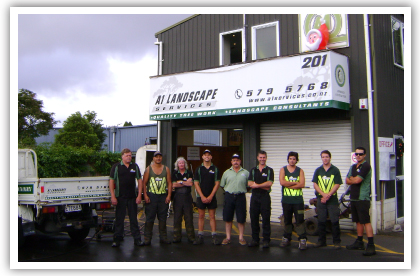 In 2004, we created an Arborist team by employing a registered English Arborist and created a classroom and
associated qualifying standards through NZ Horticultural Industry Training Organizations Inc – see accompanying qualifications next page.
We currently have staff of 9 people, 7 full time and 2 part time.
We feel that with our extensive range of machinery and Alignments our small team can provide a very efficient service with an eye for detail. Our continued commitment to education and developments of staff members instills pride and our work procedures give the direction to regularly maintain high standards.


Ut enim ad minim veniam, quis nostrud exercitation ullamco laboris nisi ut aliquip ex ea commodo consequat. Duis aute irure dolor in reprehenderit in voluptate velit esse cillum dolore eu fugiat nulla pariatur. Excepteur sint occaecat cupidatat non proident sunt in culpa qui officia deserunt mollit anim id est laborum.
Sed ut perspiciatis unde omnis iste natus error sit voluptatem accusantium doloremque laudantium, totam rem aperiam, eaque ipsa quae ab illo inventore veritatis et quasi architecto beatae vitae dicta sunt explicabo. Nemo enim ipsam voluptatem quia voluptas sit aspernatur aut odit aut fugit, sed quia consequuntur magni dolores eos qui ratione voluptatem sequi nesciunt.
A1 LANDSCAPE
We are your total landscape provider, design, supply and maintenance for residential and commercial properties.
09 579 5768
Whether you need Tree cutting, Tree pruning, Tree trimming, Tree removal or Stump grinding services we are able to help you with your requirements and provide you with a detailed ongoing plan for maintenance if required.
201, MARUA ROAD, ELLERSLIE, AUCKLAND, NEW ZEALAND